Free SVG File -Kitchen SVG for Cricut Crafters
Free SVG File for Kitchen is the perfect tool for Cricut users and crafters to add a personal touch to their cooking. With our easy-to-use, high-quality designs, you can easily create custom kitchen decorations, labels, and more. No need to worry about finding the right design – we have it all ready for you! Unleash your creativity with Free SVG for Kitchen today!
Make your kitchen shine with Free SVG for the Kitchen! Our collection of free and unique designs is perfect for sprucing up your kitchen décor. From stunning wall art to eye-catching kitchenware, our designs are perfect to add a touch of style and personality to any space. So why wait? Get ready to give your kitchen the makeover it deserves!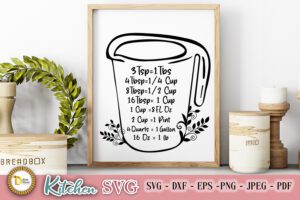 You Will Receive: 1 ZIP File containing the Following formate
SVG
DXF
PNG 12 x 12 inches
JPG 12 x 12 inches
EPS
PDF
all files are designed in colors as shown in preview photos, you can change the color with your program
Please see below how each format is supposed to be used:
The SVG format is mostly used for cutting machines software like
Cricut Design Space, Silhouette Designer
Edition, and other graphics software like Corel Draw, Adobe Suite, and more. SVG is a vector format so this means
that this format can be scaled and modified without any loss in its resolution. The words are grouped together,
but they can easily be ungrouped and have their color changed if needed.
The DXF format is accessible when using cutting machines software (please check if your version of the software
covers usage of DXF) and also for laser cutting and engraving machines. DXF is also a vector format so this
means that it allows changes without losing resolution quality.
The PNG format is 3600x3600px and is saved at 300 dpi with a transparent background which means it's the
best quality for print; PNG is a raster format so this means that any changes made to this format will damage its
resolution quality. If you want to do any changes to the file, it's best to use the vector formats (SVG, DXF & EPS) to
make changes and then to export it into PNG format for print.
The EPS format for Adobe Suite – Illustrator, Photoshop, as well as Inkscape or Corel Draw. EPS is a vector format
so any changes made to this format won't damage its resolution quality. The words are currently grouped
together, but these can be easily ungrouped.
Happy designing!
Don't Forget to Join Us For More Freebies, Giveaways, and Big Offers