My Skin Painting Color Palette – FREEBIES
Hi everyone and welcome to my blog! In this post, I'm excited to share my favorite skin painting color palettes for free. These palettes are designed to help you create realistic and beautiful skin tones for your digital paintings.
Why use color palettes?
Color palettes can be a great way to save time and create consistent colors in your paintings. They can also help you to learn more about color theory and how different colors interact with each other.
How to install the color palettes
To install the color palettes, simply download the file and open them in the Procreate app. The palettes will then be added to your palette library.
If you don't have Procreate don't worry I also added Skin Color Palette as a PNG File so you can open it on any app
How to use the color palettes
To use the color palettes, simply select a color from the palette and start painting. You can also mix and match colors from different palettes to create your own custom colors.
Subscribe to My Channel For More Tutorial
https://www.youtube.com/channel/UCmDG0wR7Pk5snvHzOKZ2Q-w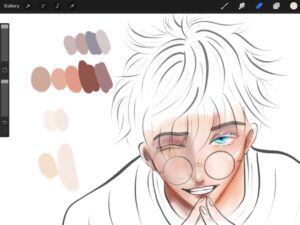 My_Final_Skin_Colors by Dina My skinSkin shading palette- by Dina from Digital art Club